Extensions for the Adobe Creative Cloud Applications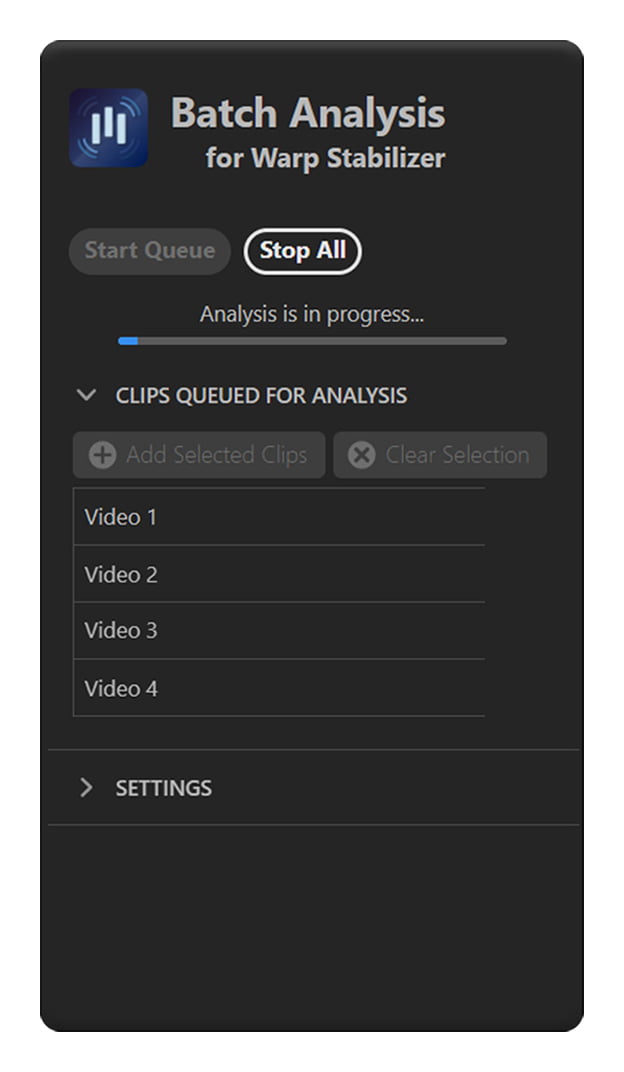 Batch Analysis for Warp Stabilizer
Vakago Tools Batch Analysis for Warp Stabilizer is a powerful Adobe Premiere Pro plugin used to analyze clips in batch using the Adobe Warp Stabilizer to stabilize shaky footage.
It helps you get rid of the time-consuming process of stabilizing each clip manually.
Parallel analysis has never been easier: just queue up as many clips as you need, and analyze all of them at once. No more dealing with the long wait times that come with waiting for each clip to finish.
It's very fast and easy to use, freeing up your time to focus on editing.
Any number of videos can be queued for stabilization and analysis. The batch stabilization can run in the background or overnight, with the timeline being rendered once all clips have been stabilized.
Parallel analysis and stabilization can be enabled which takes advantage of multiple CPU cores and speeds up the stabilization process.
Reanalyze clips that need to improve stabilization quality of already stabilized clips.
Easily fix a crooked horizon with the straighten tool for Adobe Premiere Pro. Level out and stabilize the horizon using these simple steps.
Leveling a crooked horizon in Adobe Premiere Pro is still a cumbersome task. While photo editing software like Adobe Lightroom or other video editing applications long support straightforward tools for horizon leveling, Premiere Pro forces the user to manually rotate and scale their clip until the […]
How to stabilize multiple clips on the timeline in Premiere Pro Many Premier Pro users face the issue that they have lots of shaky footage that they would like to stabilize. Unfortunately the default features in Premiere Pro only allow you to stabilize one clip after […]