Extensions for the Adobe Creative Cloud Applications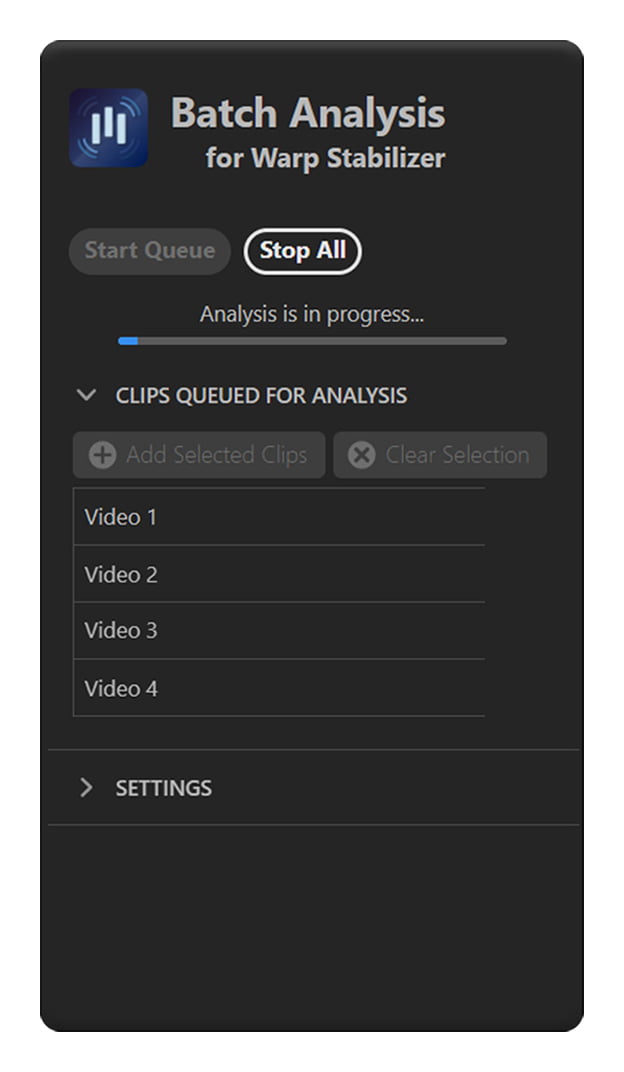 Batch Analysis for Warp Stabilizer
Vakago Tools Batch Analysis for Warp Stabilizer is a powerful Adobe Premiere Pro plugin used to analyze clips in batch using the Adobe Warp Stabilizer to stabilize shaky footage.
It helps you get rid of the time-consuming process of stabilizing each clip manually.
Parallel analysis has never been easier: just queue up as many clips as you need, and analyze all of them at once. No more dealing with the long wait times that come with waiting for each clip to finish.
It's very fast and easy to use, freeing up your time to focus on editing.
Any number of videos can be queued for stabilization and analysis. The batch stabilization can run in the background or overnight, with the timeline being rendered once all clips have been stabilized.
Parallel analysis and stabilization can be enabled which takes advantage of multiple CPU cores and speeds up the stabilization process.
Reanalyze clips that need to improve stabilization quality of already stabilized clips.
Unnesting Made Easy Handling nested clips within sequences can sometimes be cumbersome when using Adobe Premiere Pro. While Premiere Pro does not provide a method to un-nest clips, tools like the QuickNest Pro Extension can be used to un-nest single or multiple clips with just a […]
Batch Nest Multiple Clips at Once in Adobe Premiere Pro If you frequently work with Adobe Premiere Pro, you're likely used to nesting clips as part of your editing workflow. There are several use cases where you might want to nest multiple clips simultaneously, such as […]
Effortless Stock Video and Music Integration in Premiere Pro and After Effects with Vakago Stock Search Pro Extension As a filmmaker or video editor, you want to make your projects look as professional as possible. However, high-quality stock videos can be expensive, which can make it […]