Extensions for the Adobe Creative Cloud Applications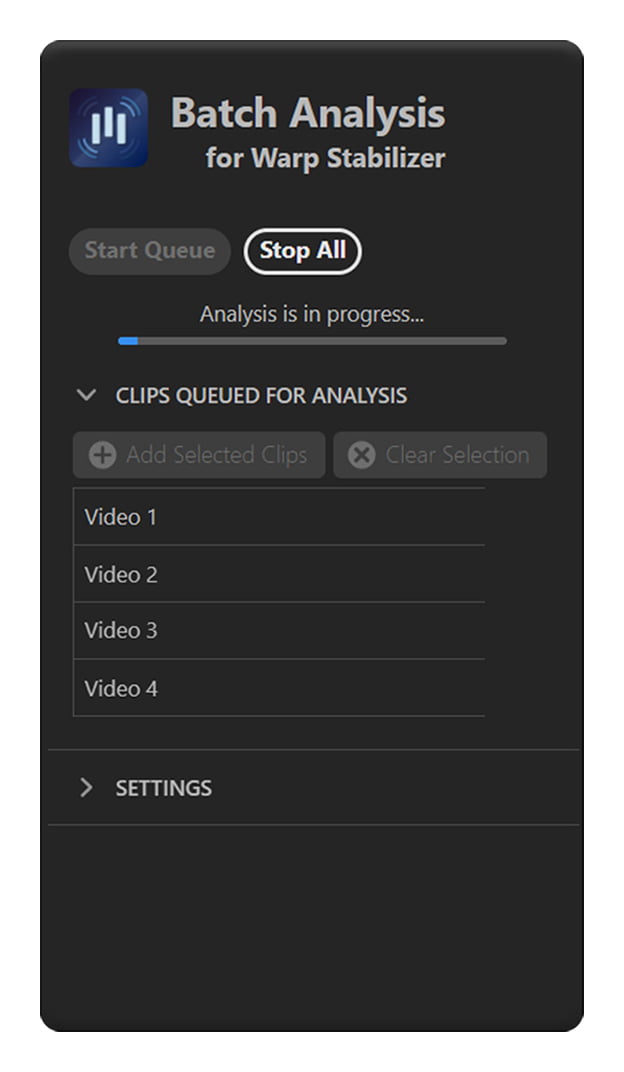 Batch Analysis for Warp Stabilizer
Vakago Tools Batch Analysis for Warp Stabilizer is a powerful Adobe Premiere Pro plugin used to analyze clips in batch using the Adobe Warp Stabilizer to stabilize shaky footage.
It helps you get rid of the time-consuming process of stabilizing each clip manually.
Parallel analysis has never been easier: just queue up as many clips as you need, and analyze all of them at once. No more dealing with the long wait times that come with waiting for each clip to finish.
It's very fast and easy to use, freeing up your time to focus on editing.
Any number of videos can be queued for stabilization and analysis. The batch stabilization can run in the background or overnight, with the timeline being rendered once all clips have been stabilized.
Parallel analysis and stabilization can be enabled which takes advantage of multiple CPU cores and speeds up the stabilization process.
Reanalyze clips that need to improve stabilization quality of already stabilized clips.
Auto masking in Premiere Pro Vloggers, content creators, and video editors often need to who need to isolate subjects from busy backgrounds or change the background entirely. Auto masking people in Premiere Pro is a powerful feature that allows users to quickly and easily isolate subjects […]
Learn about the latest advancements in AI technology and how they are changing the way we edit videos. Discover the AI Background Remover Extension for Adobe Premiere Pro and how it can replace the traditional green screen, and how masking can be used to change the brightness and saturation of the foreground and background in Premiere Pro clips. Stay ahead of the game and find out if green screens are still necessary in 2023.
Easily fix a crooked horizon with the straighten tool for Adobe Premiere Pro. Level out and stabilize the horizon using these simple steps.