Adding a facecam to a video is a great way to make your content more engaging and personal. It can also be used to provide commentary or explanations for the video's content. However, if you want to remove the background from your facecam footage, it can be a bit more challenging. Here's a step-by-step guide on how to add a facecam to a video with a removed background using Adobe Premiere Pro.
In the following we'll demonstrate the AI Background Remover Extension in an example where we want to add a facecam to a video game recording.
Step-by-step:
Time needed: 5 minutes
Adding a facecam to a video game recording in Premiere Pro is a simple process that can be accomplished in a few easy steps. Here's a general overview of the process:
Capture facecam footage

First, you will need to capture your facecam footage. This can be done using a webcam or a separate camera.

Import the footage

Next, you will need to import your facecam footage and background footage into Premiere Pro. To do this, go to File > Import and select the footage you want to use. Once the footage is imported, drag it onto the timeline to begin editing. Now you need to create a new video track above your game footage track, this will be where you will place the facecam footage. To create a new video track, right-click on the empty space above the game footage track and select New Video Track.

Remove video background of facecam clip

Drag the facecam footage to the newly created track, this will place it above the game footage.
To eliminate the background of a webcam recording, we will utilize the AI Background Remover Extension. On the extension panel, select "Apply Effect" to distinguish between the foreground and background of the video. Once the analysis is complete, the background will be automatically removed.

Adapt facecam clip

You can adjust the size of the facecam footage using the motion controls in the Effect Controls panel, or use the Position controls to move it around on the screen. Once you've positioned and adjusted the facecam footage, you can use the editing tools in Premiere Pro to trim and cut the footage as needed.

Export result

Finally, export your final video using File > Export > Media. Select the format and preset you want to use and then export the video.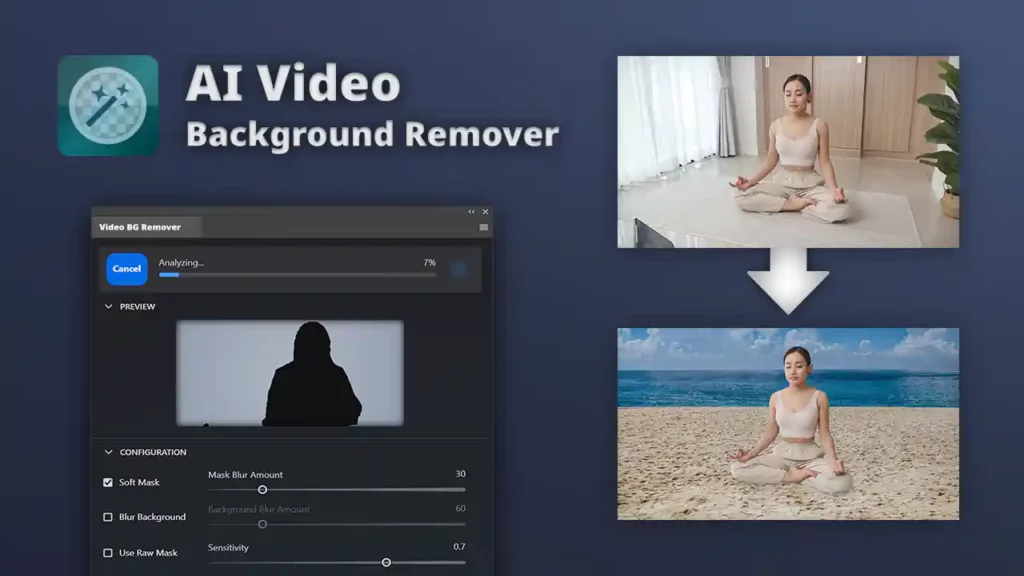 AI Background Remover Extension
This article deals with the AI Background Remover Extension plugin. Use below buttons to learn more about the extension: