Stock Images for the Adobe Creative Cloud platform
In 2015 Adobe launched it's own stock image database that is directly integrated into the Adobe Creative Cloud applications. Stock images are photos or drawings that you can use in marketing materials, on websites, magazines etc. Adobe Stock offers two main ways to buy photos: Either with credit packs, or with a subscription.
But why pay for something that you could get for free?
There are many platforms that offer free stock images, audio and even videos. Popular services are Pixabay, Pexels and Unsplash. These services offer stock files that are either royalty-free or licensed under a very permissive license. You can use royalty-free assets for commercial purposes, for marketing, advertising, and most personal uses. You can use the images you download forever, in as many projects as you wish. The Pixabay license for example allows you to use their content (e.g. images, videos, music) for commercial and non-commercial use in print and digital media. Attribution is not required and the stock files can be modified. There are a few limitation such as "Don't redistribute or sell Pixabay content on other stock or wallpaper platforms". These are described in detail in the Pixabay License.
Free Stock Image Search
This article deals with the Stock Image Search plugin for the Adobe Creative Cloud applications. Use below buttons to learn more.
Stock Search Extension
If you want to search for stock images directly in your Adobe Creative Cloud application without having to pay for every image separately you can download plugins such as the Stock Image Search extension. This extension allows you to search for stock images directly from an extension panel in your Adobe application. The extension supports Adobe Illustrator, InDesign, Photoshop as well as After Effects and Premiere Pro. What makes this extension stand out from the crowd is that if offers deep integration into the Adobe Creative Cloud platform. You can search, select and edit directly in the app's interface.
The extension uses a database, which contains millions of photos, many of which are available in their native resolution (20MP+). When adding images to one of your Projects (e.g. Photoshop or Illustrator) you can choose whether you want to use the native resolution, full HD or standard HD.
Similarly to the Stock Image Search extensions you can install free extensions such as the Audio Search. This extension allows you to search for music and audio files.
Using the Stock Image Search Extension in Premiere Pro and Adobe After Effects
By clicking the Download and add to Timeline button in Premiere Pro or After Effects, you can quickly add stock photos to your active timeline. Simply search for any keyword in the extension, then click on the image that you would like to add. You can then choose which resolution you'd like to use. If you want to download the stock images with maximum quality choose native resolution.
You can choose whether you would like to manually choose the path where the image is saved or whether you would like the application to automatically choose the path. Choose the second option if you want to put the image the project directory of your Adobe Premiere Pro or Adobe After Effects project. To add images to your project you have two options: Click Download and add to Timeline to automatically add the image to your timeline at the playhead position. Alternatively click Download and import to import the image and add it to a bin called Stock Images.
Adobe Photoshop
In Adobe Photoshop you get the choice of whether to add the stock image as a layer or open it as a separate file. After searching for stock files and opening them click on Add as layer to add the image as a layer to the image you've currently opened. If you want to open it as a new image click on Open in Photoshop. Thirdly you can choose Save image and open in Photoshop. This will ask you for a location where to save the image first before opening it.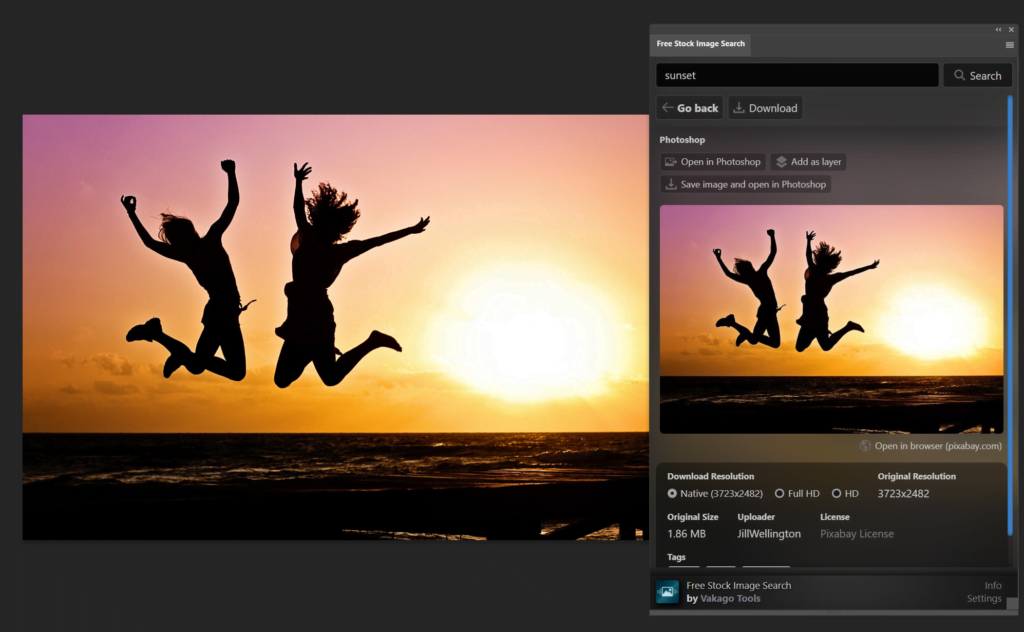 Adobe Illustrator
Similarly, in Adobe Illustrator you can search for any keyword in the extension and then select an image. Next click Add to Document to add the stock image to the current page. You can choose whether to manually choose where the image is saved or whether Illustrator should embed the image in the document. Embedding the image into the AI file gives you maximum portability when sending the file to customers, colleagues or friends.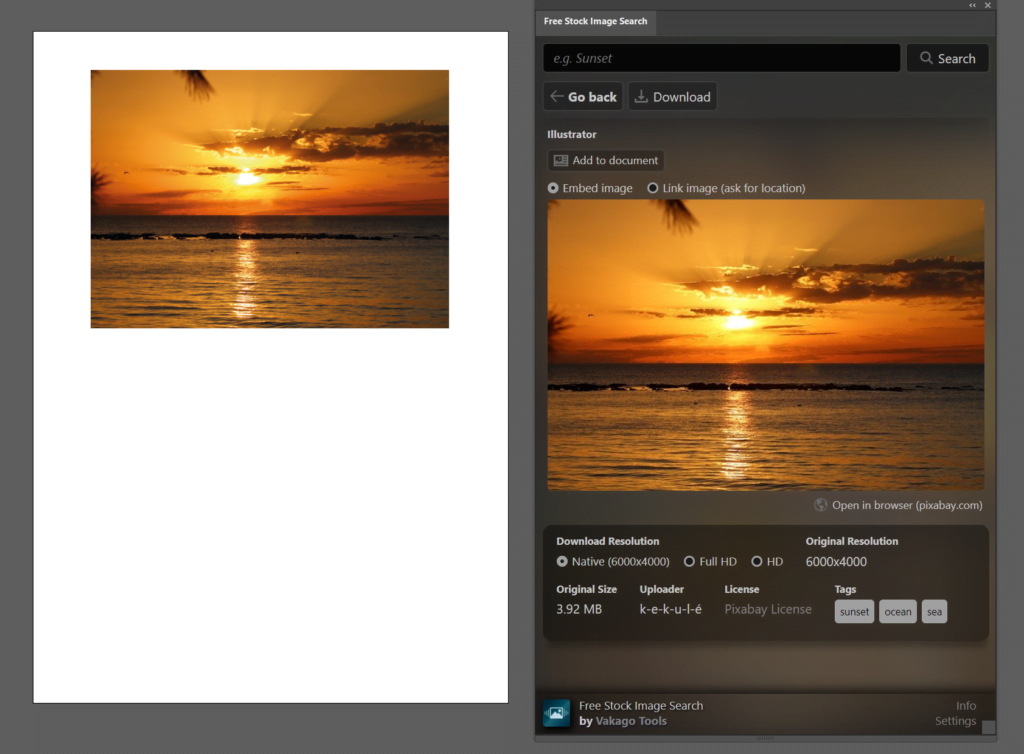 Adobe InDesign
To add stock footage to Adobe InDesign you can follow the steps above (searching and selecting images). For InDesign you need to select any rectangle or text-box and click Add to Document.
Frequently Asked Questions